The 2005 Bridgestone/Firestone
S. L. Unstudded Class Championship

The Official Tire Of Street Legal Unstudded Class
A.M.E.C.'s fastest growing classes are the Street Legal [SL] and Street Legal Unstudded [SLU] classes. These classes are based on stock, unmodified production cars weighing under 3,200 lbs and using commonly available, D.O.T. certified winter tires. Click [Ice Race Rules] for complete rules info. The SL class got it's start in 2001 and quickly gained momentum, due to it's ease of preparation and inexpensive nature. Thanks to A.M.E.C.'s beautifully plowed and very wide courses providing lots of racing room, driving was very clean and soon members wanted to bring out newer, faster, and more reliable cars. By it's third year of operation, A.M.E.C. members voted in a "no-contact" rule, which forbids any contact at all by ejecting any racer from the race immediately for any contact. This rule prompted a lot of people who were previously "on the fence" about joining in, to come out and race their daily driven cars. Consequently, you will regularly see some beautiful late model sport compacts competing wheel to wheel very swiftly, but also very carefully, on our custom road courses atop some of the most beautiful lakes in upstate, NY.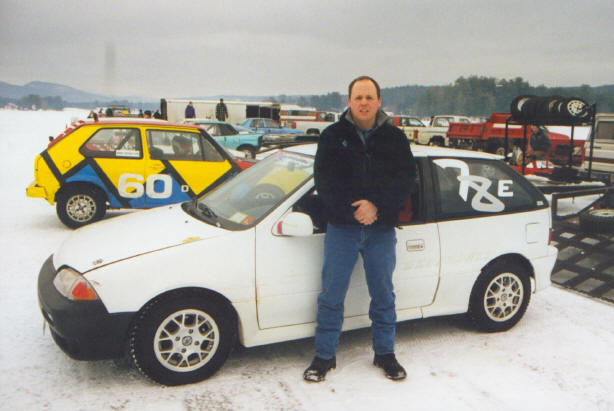 The Inaugural 2001 SL Class Champion
Here is the guy who showed us all how it was done in the inaugural 2001 Street Legal championship season. The announcement of the new SL class lured brothers and former ice racers, Pete and Chris Zeh out of retirement for the 2001 season. Taking a close look at their car on the very first race day, it became quickly apparent that these guys came prepared to win! Their car of choice was a lightweight '91 Suzuki Swift GTi. This car is an excellent choice due to it's small size, great power to weight ratio, and is powered by the smallest engine ever to win a SL class race. At just 1300 cc's and rated at 100 h.p., the Swift GTi's high revving, fuel injected, twin-cam engine, was combination that proved to be hard to beat. There were many races where Pete looked as though he was in a race of his own, often times being a half of a lap in front of the second place car!
Winning tires used: studded Nokian Hakkapeliitta 10's.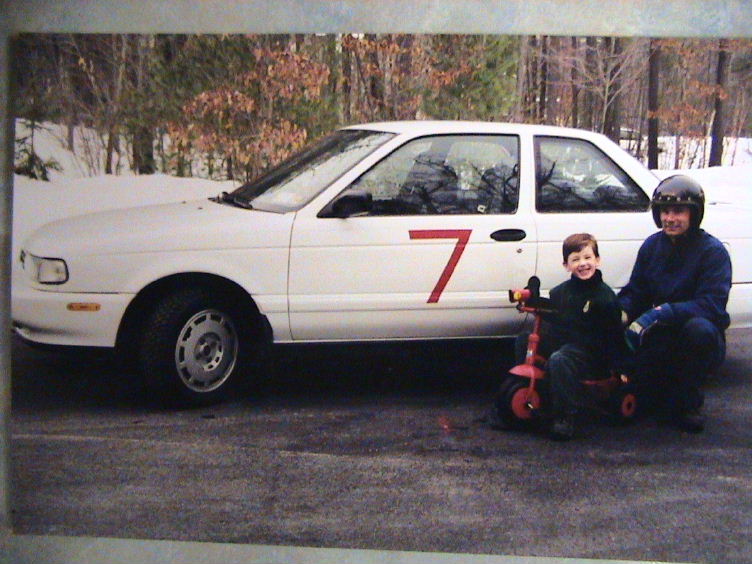 The 2002 SL Class Champion
Current A.M.E.C. Vice President and tireless SL class promoter Michael Kamm, was the 2002 season champion. Seen here posing with his son Mark in front of his potent '92 Sentra SE-R, this was Mike's answer to Pete Zeh's Suzuki Swift GTi for the 2002 season. Unfortunately, Pete had sold his Suzuki and did not return in 2002 for the showdown. Nissan Sentra SE-R's were powered by the all aluminum 2.0 liter 16-valve SR20DE engine rated at 140 h.p. which included a close-ratio five speed and a factory viscous limited slip differential. Although much heavier than the Swift GTi's, this combination has proven to be highly successful in the SL classes.
Winning tires used: studded Nokian Hakkapeliitta 09's and 10's.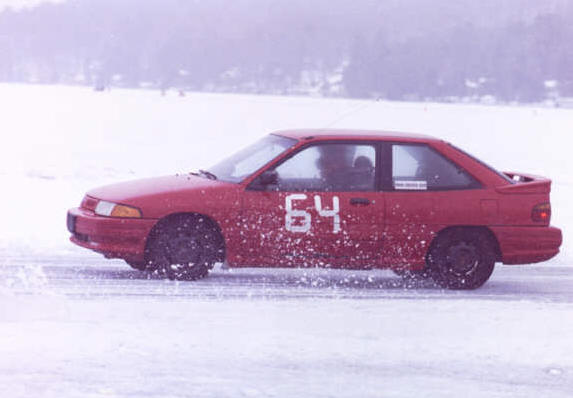 The 2003 SL Class Champion
Gerard Michney scored the 2003 season Street Legal Class championship with his very impressive '91 Ford Escort GT. Gerry used his fantastic car control skills, coupled with one of the best Escorts available to secure the title. The '91's GT's were powered by the Mazda 1.8 liter 16 valve twin-cam engines rated at 127 h.p. The car started out as Gerard's wife's and Theresa put the first 130.000 miles on it. It was later given to Gerry's step son, and after that donated back to Gerry. There it sat in the back yard, until Gerry washed the tree sap off of it, and then drove it to the 2003 season title!
Winning tires used: studded Pirellis and studded Nokian Hakkapeliitta 1's.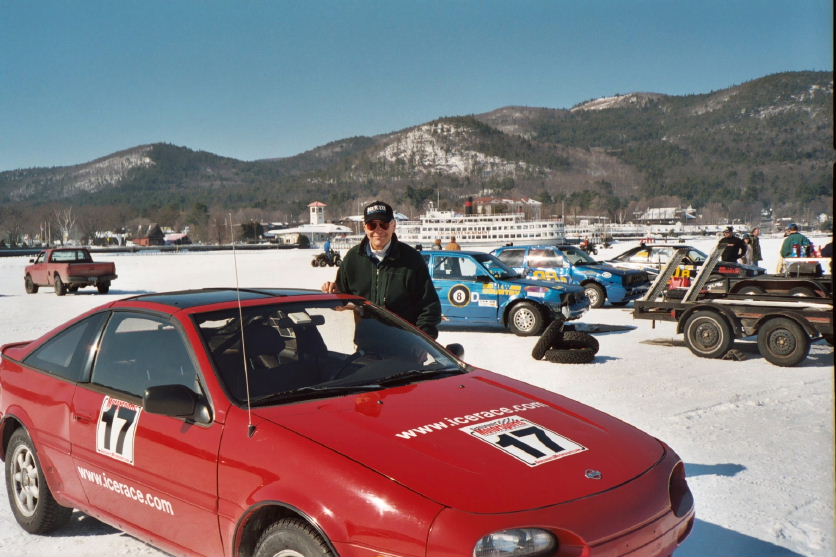 The 2004 SL Class Champion
The fourth year of Street Legal Class racing crowned Phil LePore of Albany, NY as it's champion. Phil had run at the Pittsfield Ice Trials a few winters before and wanted more. He learned about A.M.E.C. Ice Racing through this website when some "SL News" articles posted on our message board caught his eye. He contacted Mike Kamm, the author of those articles via email. After emailing questions back and forth and obtaining a copy of the "Ice Racing 2001" yearbook video, Phil was hooked on the idea of going ice racing. The rest they say, is history. Phil runs a '93 Nissan NX2000, which is identical to an SE-R mechanically, but in it's own unique hatchback body style. Phil too, will switched to the new SLU class for 2005, for it's level playing field and "no stud maintenance" features that only studless winter tires can provide.
Winning tires used: studded Nokian Hakkapeliitta 2's and studless Hakkapeliitta Q's!
The 2005 SL and SLU Class Champions
Yes there were two champions for the 2005 season! The cost of staying competitive was becoming a problem in the studded Street Legal class. Competitors were finding that their studded tires were not holding up to the rigors of ice racing. After only a few short weekends many SL racers found their studs would not stay in their tires. Staying competitive meant starting the season with at least 6 to 8 new tires- every year and replacing them as needed. Worse yet, only those who hand studded their tires with expensive adheasives were able to win races. The majority of SL class racers were looking towards the impressive new modern studless winter tires to solve this problem. A new SLU [Street Legal Unstudded] class was voted in and a sponsor was sought for the 2005 season. That's when Bridgestone Firestone LLC came on board with A.M.E.C. with their excellent Blizzak winter tires to bring us the 2005 Street Legal Unstudded Championship.
The 2005 SL Class Champion
The studded SL class champion was Vermont's Josh Teresco [center] in his 1986 Saab 900. To the left is 3rd overall in class Dave Fazzino with his Isuzu I-Mark turbo, and on the right is runner up Mark Teetor and his AWD Subaru Legacy turbo. Josh's Saab is powered by a 2.0 liter 16-valve engine is rated at 130 h.p. This was the first non Japanese powered car to score a SL class championship. Josh got his Saab influence early in life from his Dad. His first exposure to ice racing was while he was waiting around at Darryl Carl's New Salem Saab dealership back in the early 80's. His Dad's car was being repaired there and Josh got interested in the ice racing Saabs he saw behind the shop. In the winter of 2000, Josh and friend Chris Rizzon went to Round Lake to watch their first ice races. A year later he learned of the formation of the new Street Legal Class and started his ice racing career in SL for the 2002 season. Only three short seasons later, Josh was crowned champion in the original studded division of the SL Class. Like every other SL Champion before him, Josh is not planning to run studs again next season. There seems to be a pattern here.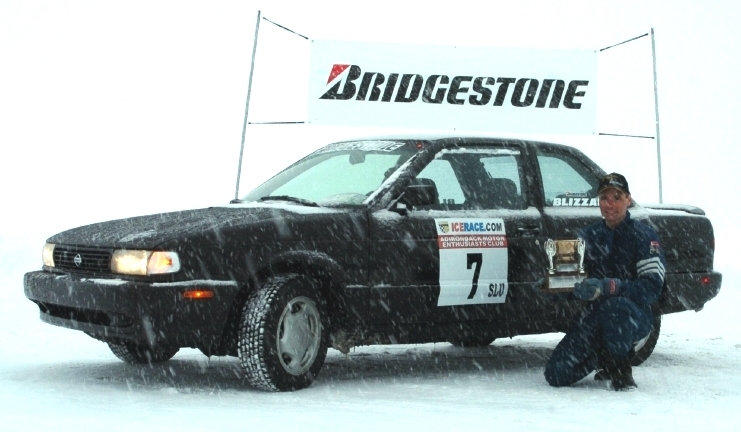 Photo Courtesy of Alan Lincourt
The 2005 SLU Class Champion
Current A.M.E.C. Vice President Michael Kamm, was the first repeat champion in any of the Street Legal classes. For 2005, he chose the new Bridgestone Blizzak spec tire and ran in the new SLU class. He was joined by 36 other drivers for the new unstudded class! He alternated weekends between driving his tried and true black '93 Nissan SE-R and his daily driven '89 Nissan Sentra 4WD wagon with its 1.6 liter engine. Yes, 4WD cars have always been welcome in SL and for the first four seasons were never a threat to a well driven 2WD car. That all changed in 2005 with Mike's little red wagon and Bridgestone Blizzaks. For 2006 another new SL division was voted in. The new Bridgestone SLU-4 Class is where all 4WD and AWD cars will be run, and they will all use unstudded tires exclusively.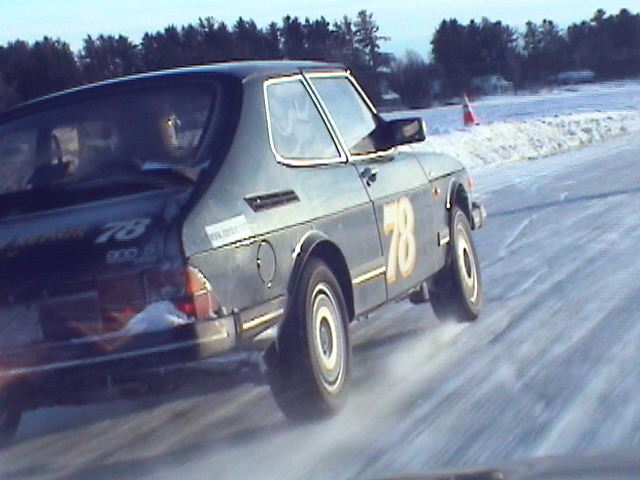 With a 3,200 lb. weight limit in SL and SLU classes, you'll find some bigger cars out here too. This is Bill Stealens' #78SL Saab 900 in action on Caroga lake this past February. As you can see we had some fairly high snow banks on this frigid weekend. This was the coldest race weekend of the 2004 season. Unlike some of the softer, slushy track conditions experienced later in the season, on this day the track was rock hard and plenty slick!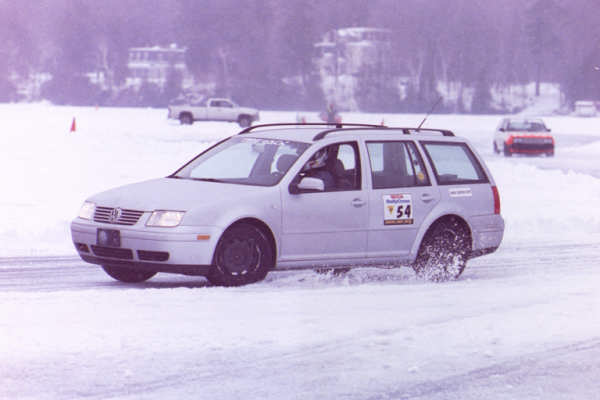 2004 was Robin Wilkins' second year of ice racing with her 2001 VW Jetta wagon in the Street Legal class. She started out in 2003 with her original equipment all season tires. Robin quickly realized that she needed a set of modern winter tires to give her the good handling characteristics and control necessary for ice racing. She chose a set of the latest studless "friction" tires, in the form of Nokian Hakkapeliitta Q's, and what a world of difference they made for her in the 2004 season! For 2005, Robin is all set to run the new "Street Legal Unstudded" or [SLU] class.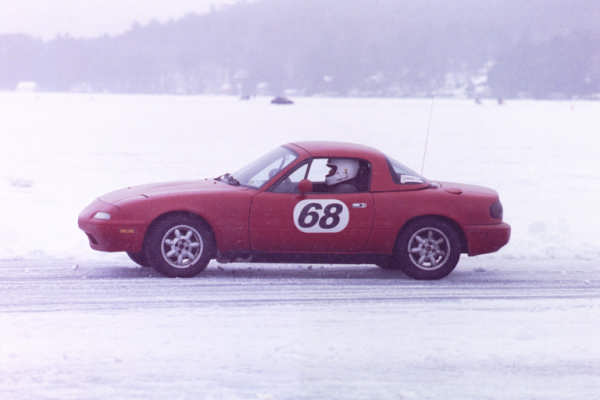 Who says rear wheel drive cars aren't competitive in the SL classes? Ice racing veteran Ed Tucker ran his beautiful RWD Mazda Miata with studless Nokian Hakkapeliitta Q winter tires with great success this past season, scoring several third place finishes only being bested by studded cars in those races. Had there been a Street Legal Unstudded class this past season, Ed would have many first place trophies to show for it, as he frequently finished ahead of many studded cars as well.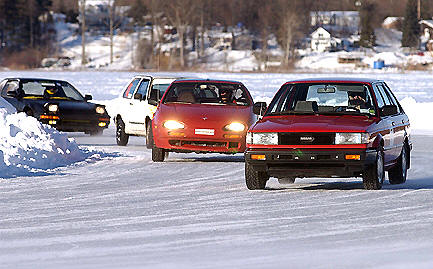 Photo Courtesy of Marty McAuliff
Mike Kamm's 4WD Nissan Sentra wagon scored the first ever win for a 4WD car in the four year history of the SL class. He cruised to victory riding on a set of studded Gislaved Nordfrost 3's. The location was Round Lake and it's interesting to note that the course on this day, was the tightest and most twisty road course of the 2004 season. Mike is seen here leading this year's SL season champion Phil LePore, driving his Nissan NX2000 in the first lap of the final SL class race of the day.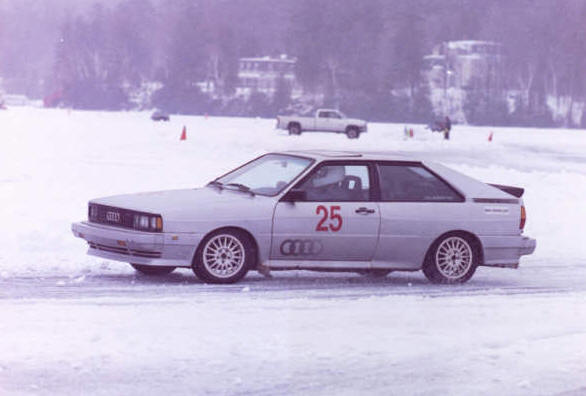 During the 2003 season, the SL class was very pleased to have former ice racing veteran Art Mayhew come back to A.M.E.C. ice racing with his classic Audi Quattro Coupe. This five cylinder, turbocharged, AWD car consistently scored impressive top five finishes with Art behind the wheel, on studded Nokian Hakkapeliitta 2's Always noted for his considerate and squeaky clean driving style in his Menard class racing days, Art is exactly the kind of driver the no -contact SL class embraces!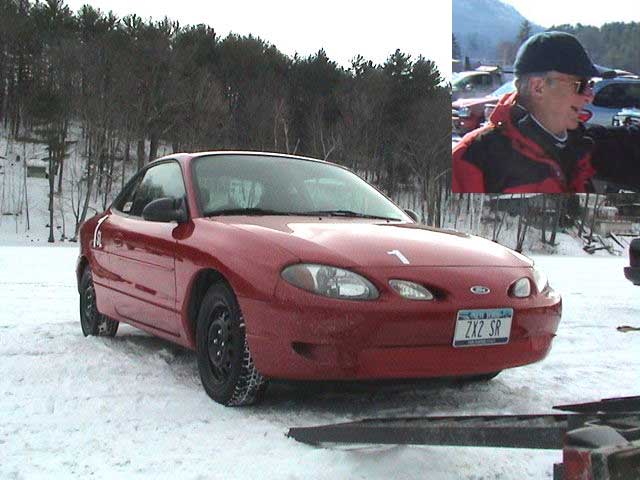 50 year A.M.E.C. ice racing veteran, club officer, Course Marshall, and former A.M.E.C. President, Dick Vedder is one of a very small group who have always preferred to run studless tires in SL class. Dick loves his Bridgestone Blizzaks and has had great results with them. This is Dick's stunningly beautiful 2000 Ford ZX2 with the rare S/R performance package that he had to make the dealer salesman aware of, after being told no such package existed. Only 1500 examples were made, and Dick has run this car in SL from the its very first season in 2001, when the car was just a year old.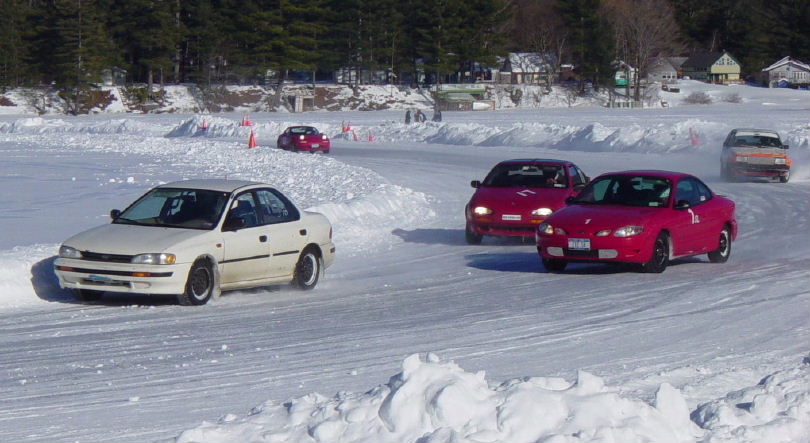 Photo Courtesy of Stan Waddle
Here is a good example of the various driveline platforms that compete on a regular basis. This would include FWD, AWD, and RWD.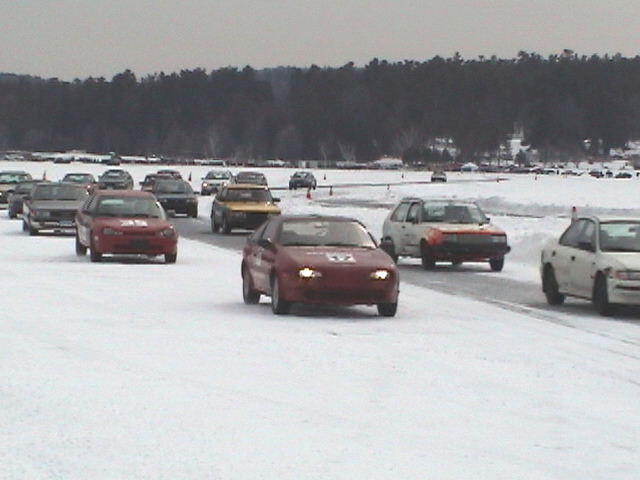 The Lake George Winter Carnival
A.M.E.C.'s biggest event of it's winter series takes place at the popular vacation destination of Lake George, NY. Right off the shore of Million Dollar Beach, the crowds gather in the pit area and along the front stretch each year to watch the eight classes of ice racing cars do battle on the 1 to 1.5 mile road courses. Carnival attendees and spectators can best identify with the SL classes, as their street driven cars look exactly like those out racing on the track. Interested spectators frequently take note of what brand tires the winners are using in the SL classes and no doubt take that into consideration when deciding what winter tires will work best for their car and family's vehicles.
Phil LePore in action during the Lake George Winter Carnival races. The action is fast and furious as Phil's Nokian tires claw their way around the slippery corners during Sunday's activities.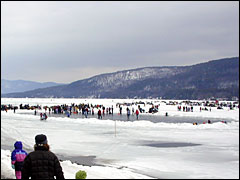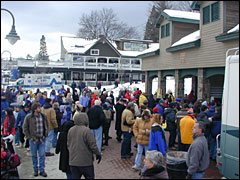 So join A.M.E.C. and come on out to join us for the best winter time driving excitement you could ever hope for!
"For more information on the Street Legal Unstudded Class please click the link below:"
http://com4.runboard.com/bamecmessageboard.fmainchat.t125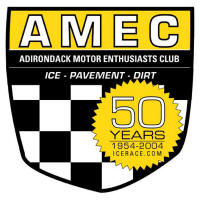 For more information please visit another of our pages entitled Getting Started In Ice Racing. For any additional info or questions related to the SL Classes, please contact our club V.P. and SL class promoter, Ivan Hinkle at: 4sight at frontiernet.net.
3
Copyright 2012 A.M.E.C.